A welcoming addition, E-Series bay and bow windows feature head and seat boards in your wood selection, and provide a focal point that is architecturally consistent inside and out.
Available with casement windows in the following styles: 30° angle bay, 45° angle bay, 90° box bay and 10° bow windows
Available with double-hung windows in the following styles: 30° angle bay, 45° angle bay
Wood protected by aluminum exterior
Custom colors, interior woods and stains
SEE HOW OTHERS ARE USING THIS PRODUCT
Tag on Tag us on Instagram using #andersenwindows
The Beauty Of Wood At A Great Value
Sash glide up and down for ventilation
Our value wood double-hung window
Wood with a vinyl exterior to resist water and seal out the elements.
It's built into every window. We have options to help you meet the performance level you need.
Available with Stormwatch® protection for coastal applications. For more information, contact your Andersen supplier.

At Andersen, we pride ourselves in crafting durable, long-lasting products. That resilience allows us to offer some of the best warranties in the industry. They're even transferable should you sell your home. With our exclusive Owner-to-Owner® limited warranties, you get peace of mind, plus real added value.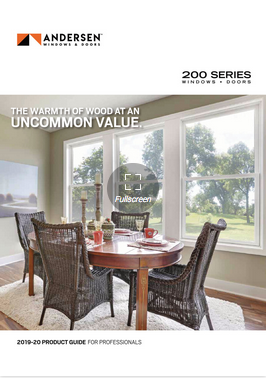 Product Guide For Professionals
Created for trade professionals, product guides provide high-level overviews of the features and options available with each Andersen® product series.  Additionally, they include detailed information on the construction of each type of A-Series window and door, along with sizing charts and section details. Product performance data is also included.