Energy Efficient Windows: A How-To and Buyer's Guide
Energy efficiency is an important consideration when shopping for new or replacement windows and doors. There are a number of energy efficient features and benefits to consider when researching windows, including cost, energy savings, comfort, and environmental sustainability.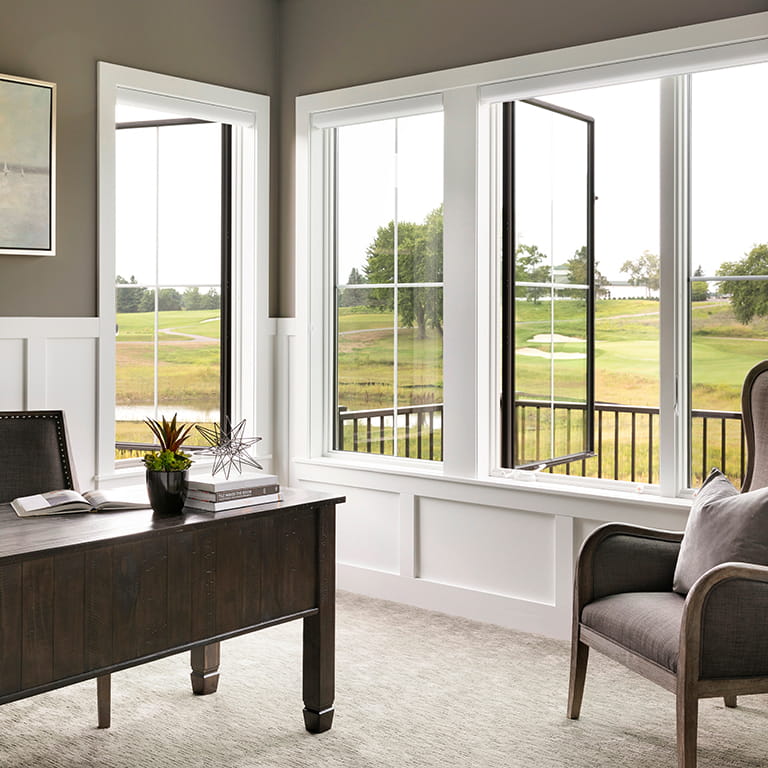 Why energy efficient windows?
Whether you're replacing a window or updating existing ones, there are many benefits to improving the energy efficiency of your home's windows.
Simply put,
ENERGY STAR® certified
 energy-efficient windows help reduce costs on your monthly energy bills and improve the comfort of your home, regardless of the season. Drafty windows and windows that are not properly insulated can increase your home's energy use each year, leading to inflated energy bills and overworked HVAC systems.
With the right
glass options
, energy-efficient windows can help reflect heat in the summer and keep heat inside in the winter, helping to keep your home comfortable year-round.
Energy-efficient windows also have a positive impact on the environment by reducing your home's overall carbon footprint and lengthening the lifespan of its energy systems. Andersen offers products made with our exclusive
Fibrex® composite material
 that is composed of 40% reclaimed wood fiber by weight. Plus, Fibrex material is twice as strong as vinyl.
What are energy-efficient windows?
There are two main components to consider with an energy efficient window:
 The material used to build a window frame is critical for maximizing energy efficiency – wood, vinyl, composite (Fibrex® material) and fiberglass are some of the most common types. Savings and costs vary based on the material and its construction process.
 Double-pane (dual-pane) glass naturally performs better than single-pane glass for energy efficiency, as the space between each pane acts as an additional layer of insulation from the heat or cold. Low-E glass is optimal for conserving energy because it reduces ultraviolet (UV) and infrared light penetration to limit heat transfer.
How do I know if a window is energy efficient?
Start by looking for the ENERGY STAR® logo or National Fenestration Rating Council (NFRC) logo on the window or door you want to buy or install. Window installers and companies will also typically promote products that are NFRC labeled and ENERGY STAR certified so you know up front if they sell and install energy-efficient windows.
How To Read The Label
Look for the certification label below on every window and patio door you buy. These ratings allow you to measure and compare the energy performance of similar products. If a product does not have this label, the NFRC has not verified its claims.
Each product's NFRC label is customized to the exact window or door specifications (size, glass type, etc.), then applied to the finished product. View NFRC ratings for Andersen® products.
How do energy efficient windows work?
To obtain ENERGY STAR certification on a window or door, a manufacturer must pass an independent performance test created by the non-profit National Fenestration Rating Council (NFRC). The test measures and rates a window's energy efficiency based on five factors:
Do energy-efficient windows increase home values?
Yes! In addition to helping save on your energy bills, replacing and upgrading windows can have a direct impact on the value of your home. Window replacement may not be the most noticeable home improvement project, but its impact on your home's equity is certain.
According to 2018 data from Remodeling Magazine, the national return-on-investment (ROI) average for wood window replacement is 69.5%, higher on average than popular midrange projects such as a major kitchen remodel (59%), bathroom addition (59.9%) or a backyard patio (47.6%).
How much money do energy efficient windows save?
According to energystar.gov, ENERGY STAR certified windows can save an average of 12% on energy bills each year1. If windows are single-pane, an estimated savings for ENERGY STAR certified windows is between $101-583 per year. If windows are double-pane, savings estimates range between $27–$197 per year2.

Actual savings will vary based on local climate conditions, window type (single-/double-pane, frame material), utility rates and individual home characteristics.
1Residential Windows, Doors and Skylights. Date accessed September 29, 2020.
2Benefits of ENERGY STAR Qualified Windows, Doors, and Skylights. Date accessed September 29, 2020.