100 Series picture windows are stationary and designed to be used alone to maximize a view or combined with venting windows to create large combinations. Made with our sustainable Fibrex® composite material, it's our budget-friendly picture window.
Made with our sustainable composite Fibrex® material which is twice as strong as vinyl
Clean corners for a refined look
Standard sizes up to 8′ wide or 8′ high. Custom sizes available.
Innovative And Sustainable
Sleek profiles in a contemporary style
Our entry-level awning window
Made of Fibrex® composite material, which is twice as strong and rigid as vinyl
It's built into every window. We have options to help you meet the performance level you need.
Available with Stormwatch® protection for coastal applications. For more information, contact your Andersen supplier.

At Andersen, we pride ourselves in crafting durable, long-lasting products. That resilience allows us to offer some of the best warranties in the industry. They're even transferable should you sell your home. With our exclusive Owner-to-Owner® limited warranties, you get peace of mind, plus real added value.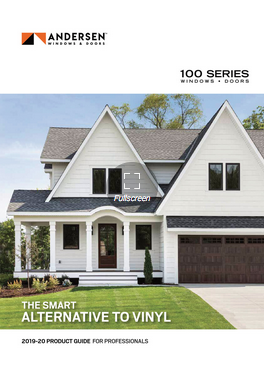 Product Guide For Professionals
Created for trade professionals, product guides provide high-level overviews of the features and options available with each Andersen® product series.  Additionally, they include detailed information on the construction of each type of 100 Series window and door, along with sizing charts and section details. Product performance data is also included.