A sleek, classic door creates an open view to the outside. Andersen® E-Series gliding patio doors come in custom colors and infinite interior options for unlimited possibilities and unmatched freedom. Made of wood protected by an aluminum exterior, it's our fully customizable gliding patio door.
Custom colors, interior woods and stains
Wood protected by aluminum exterior
Available in standard sizes as single panel, 2-panel and 4-panel configurations. Custom sizes also available.
The E-Series Gliding Patio Door is available in two French style panel options and two contemporary style panel options.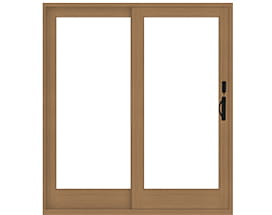 4 11/16″ Stiles, 4 11/16″ Top Rail & 8″ Bottom Rail
4 11/16″ Stiles, 4 11/16″ Top Rail & 12″ Bottom Rail
Custom Colors, Interior Woods and Stains
It's built into every window. We have options to help you meet the performance level you need.
Wood with a vinyl exterior to resist water and seal out the elements.
Coastal Windows and Doors with Stormwatch® Protection
Andersen® windows and doors with Stormwatch® protection offer many of the same options and accessories as our standard products with the added upgrades needed along the coast and other parts of the country where Mother Nature is particularly difficult.
Designed to satisfy:
• ASTM/E1886/E1996 large missile test for wind zone 4
• TAS 201, 202, 203 large missile test for high velocity hurricane zone (HVHZ)
• AAMA/WDMA/CSA 101/I.S.2 A440-08
For more information, contact us.
See a Project Featuring this Product:
Atlantic Highlands, New Jersey
To capture breathtaking views of the Raritan Bay and the Manhattan skyline in the distance, a pair of New Jersey homeowners designed a contemporary home on top of a hill in Atlantic Highlands.

At Andersen, we pride ourselves in crafting durable, long-lasting products. That resilience allows us to offer some of the best warranties in the industry. They're even transferable should you sell your home. With our exclusive Owner-to-Owner® limited warranties, you get peace of mind, plus real added value.