Sliding Glass Door Systems
Engineered for smooth and easy operation, giving you design freedom with the performance and innovation you expect from Andersen.
Straight stacking or pocketing for a perfectly unobstructed view
Contemporary and traditional designs
Sized for openings up to 50′ wide and 10′ tall with sliding glass panels up to 60″ wide
Pass-through window configurations available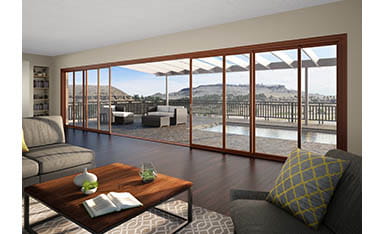 MultiGlide doors fit openings up to 25′ wide and 10′ tall creating beautiful walls of movable glass.
Choose from contemporary or traditional door designs and customize with dozens of exterior and interior options.
Most doors are available in an extensive variety of sizes, including industry-standard widths of 3'0″ & 3'6″ and heights of 6'8″ & 8'0″.
Big Doors Product Guide For Professionals
Created for trade professionals, product guides provide high-level overviews of the features and options available with each Andersen® product series. Additionally, they include detailed information on the construction of each product type, along with sizing charts and section details. Product performance data is also included.